News
Rebecca Casselberry Earns Gold Metals at National Special Olympics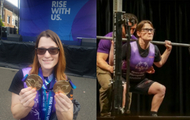 Rebecca Casselberry, the 26-year-old daughter of Amber and Chris Casselberry, Jr., and granddaughter of Shelia and Chris Casselberry, Sr., recently traveled with her family to Seattle, Washington, to compete in Nationals for the Special Olympics in power lifting from July 1-6, 2018. She was one of only two participants in weight lifting from Louisiana. Rebecca earned a gold metal in the dead lift, lifting nearly double her body weight. She also earned silver metals in the bench press and squats. Rebecca also earned a gold metal for overall power lifting at Nationals.
"We're proud of her," said her mother Amber.
Rebecca only began power lifting about a year ago after seeing her sister weight lifting. She first competed in local Special Olympics contests before being invited to the National competition. She trained for 2-3 days a week to prepare for the competition.
Photos courtesy of the Casselberry family.