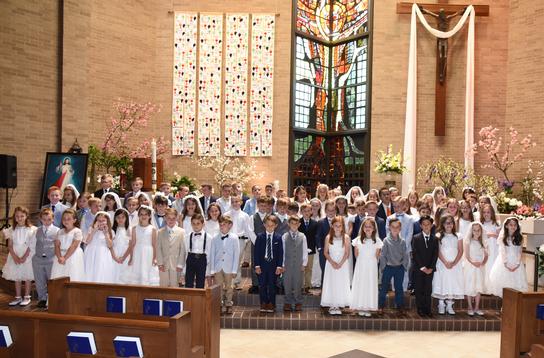 In order to prepare your child for these sacraments, you must complete a registration form. Please watch the bulletin and parish website for further information.
From USCCB - "Not only does it [the Sacrament of Penance] free us from our sins but it also challenges us to have the same kind of compassion and forgiveness for those who sin against us. We are liberated to be forgivers. We obtain new insight into the words of the Prayer of St. Francis: "It is in pardoning that we are pardoned."
Jesus entrusted the ministry of reconciliation to the Church. The Sacrament of Penance is God's gift to us so that any sin committed after Baptism can be forgiven. In confession we have the opportunity to repent and recover the grace of friendship with God. It is a holy moment in which we place ourselves in his presence and honestly acknowledge our sins, especially mortal sins. With absolution, we are reconciled to God and the Church. The Sacrament helps us stay close to the truth that we cannot live without God. "In him we live and move and have our being" (Acts 17:28). "
For a candidate to be eligible to receive the Sacraments of Reconciliation and Eucharist, he or she must:
1. Have sufficient knowledge to understand the mystery of Christ according to his/her capacity (Canon 913).
2. Be able to distinguish the Body and Blood of Christ from ordinary food (Canon 913).
3. Have a desire to receive the Lord Jesus reverently in Holy Communion with faith and devotion (Canon 913).
4. Have at least two years of catechesis prior to the reception of First Eucharist.
These sacraments are typically made by second grade religious education or Catholic school students.
The Sacrament of First Reconciliation takes place in the fall.
The Sacrament of First Eucharist takes place on the Second Sunday of Easter each year.
Students must be registered for Parish School of Religion classes if they are in public school, as well as a separate sacramental registration. Registration opens in June and will remain open through August.
Staff Liaison: Olga Johnson, DRE, 261-4644, dre@alphonsus.org