Annual Events
Our Auction and Taste Fair is held in conjunction with the Festival of Two Rivers. Join us for an evening of excitement including food, entertainment, $10,000 raffle, live and silent auctions. Our next Auction, Taste Fair and drawing for our $10,000.00 Raffle will be held on Saturday, March 7, 2020. Everyone is welcome to join us for an "Irish" celebration! Consider being a sponsor, donating an item, volunteering your time, and joining us in March 2020 for an evening of food and excitement.
2020 Chairmen: Robert & Shae McLin, 225-978-5891
2020 2nd Chair: Don & Donna Blanchard, 225-315-0085
2020 3rd Chair: Annalee Starks, 225-268-7974
Staff Liaison: JoAnn Stein, 261-4650
St. Alphonsus' Festival of Two Rivers was held on May 3-5, 2019. Our next fair will be held on April 24-26, 2020. Be a part of this extra special event and join us for fun, food, games, rides, bingo, and entertainment. Volunteer your time and talents by working in a booth or by helping with set up and clean up or by donating items for our plant booth, sweet booth, frozen foods, etc.
2019 Chairpersons
1st Chair: Thomas Arceneaux, 262-6238, and Richard Venable, 261-8211
2nd Chair: Kevin and Shannon Tate, 262-0057
Staff Liaison: Fr. Mike Moroney, 261-4650
Milestone Anniversary
In conjunction with the observance of Worldwide Marriage Day, St. Alphonsus honors married couples in the parish celebrating a "milestone anniversary" (25, 30, 35, 40, 45, 50, 55, 60 and above). This celebration takes place each year at a 4:00 PM Vigil Mass in the month of February. A reception follows the Mass.
In 2019, our Milestone Anniversary Celebration was held on Saturday, February 2. Couples celebrating a milestone anniversary should have received an invitation in the mail in mid-December. Please call the Church Office if you are a parishioner who will celebrate one of these anniversaries in 2019 and did not receive an invitation. Don't forget to RSVP and bring in a photo with your pink information sheet!
Contact & Staff Liaison: JoAnn Stein, 261-4650
80th Birthday Celebration
In August, the parish honors members who are celebrating their 80th plus birthday that year. A reception follows the designated Mass. The reception will be held after 4 PM Mass on Saturday, August 24, 2019.
Contact & Staff Liaison: Susan Hankel, 261-4650
Hall of Fame
Through a parish-wide nomination process, St. Alphonsus recognizes outstanding members of the parish who have given their time and talent for the betterment of our faith community. Those being honored were recognized at the 10:00 AM Mass on Sunday, October 13, 2019. Hall of Fame Nomination Forms are available in the back of the church or in the Church Office. Nominations are due by Tuesday, August 13, 2019.
Contact & Staff Liaison: JoAnn Stein, 261-4650
Veterans Mass/Military Recognition
All military personnel, veterans and those currently serving are specially recognized on the Sunday nearest Veterans Day in November. This year military and veterans will be recognized at the 10 AM Mass on Sunday, November 10, 2019.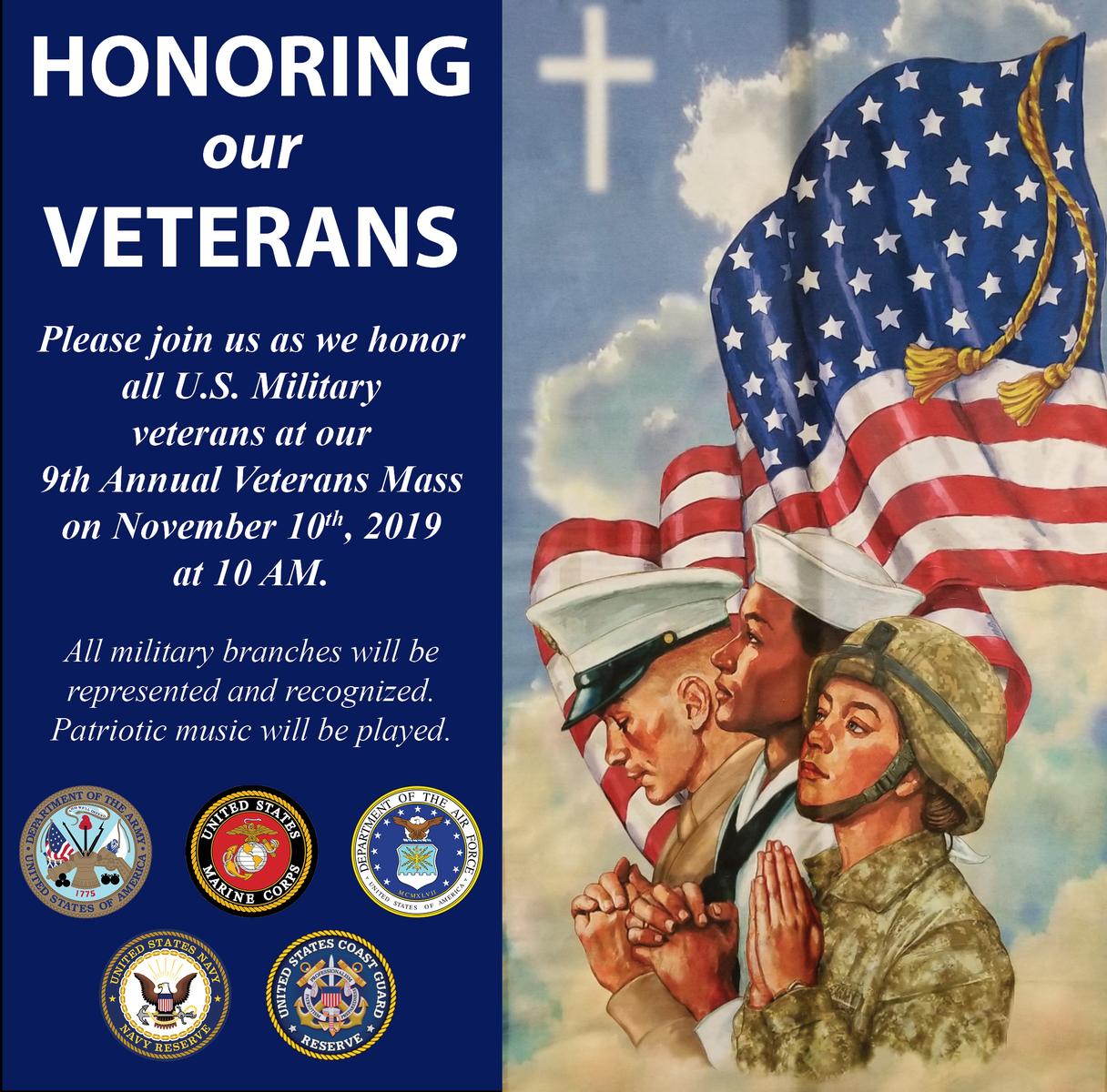 Contact & Staff Liaison: Robin Debetaz, 261-4650
Remembering Our Children
On Worldwide Candlelight Day in December, we especially remember and celebrate the life, love and light of our children who have left us much too soon. This candlelight service symbolizes that the light of these precious children will forever be held in our hearts. This year the candlelight service will be held on Sunday, December 8, 2019 at 6:00 PM.
Contact & Staff Liaison: JoAnn Stein, 261-4650
Each year, St. Alphonsus selects a cruise and invites parishioners to join Fr. Mike seeing the world. Parishioners can take advantage of the group rate for this trip and expect to see beautiful places with rich cultures. This year they went cruising down the Rhine River on August 7-14, 2019.
Contact & Staff Liaison: JoAnn Stein, 261-4650