Adult Formation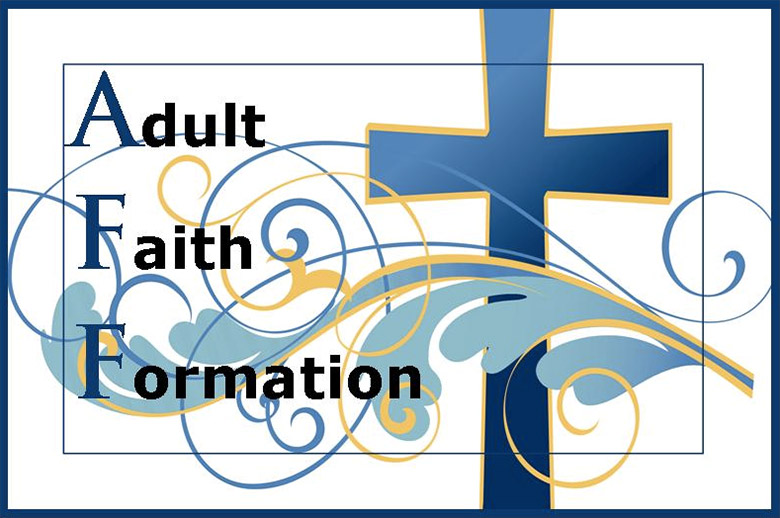 Adult Formation is a multifaceted approach to help parishioners reignite and refresh their faith and deepen their understanding of our Catholic Faith. Through the years some of us may have forgotten or lost what we were taught through our formal teaching years. This program helps parishioners reconnect and continue their faith journey through guest speakers, movies, books, and the Formed website and more. Faith is nurtured and Evangelization is brought to the forefront of our thoughts and expressions. How better to live the message of Christ than to spread His message of salvation and to reach and teach each other.
Family Adoration/Benediction
All families, all ages are invited to attend Parish Adoration on the first Saturday of every month starting between 8:30 AM- 9:00 AM in the church. Our first Saturday is October 6th. Please note this includes children of all ages, grandparents, singles, and married couples. Join us for donuts in the St. Francis Room after Adoration.
Theology on Tap at St. Alphonsus
Sunday, October 14th at 7 PM in the Multi-Purpose Building
Drinking Good Spirit(s) with guest speaker Stephanie Clouatre Davis
Spirit(s): both holy and wholly intoxicating! Good spirits are the elixir of a healthy and holy life, but how to discern well what is truly good? St. Ignatius of Loyola left behind useful tools to help us discern the good spirits of our daily life in his Spiritual Exercises. Join us as we drink deeply and gather tools to live holy lives with good spirits!
This will be the first of FOUR Theology on Tap lectures held at St. Alphonsus. Check here for details on future talks.
Theology on Tap RSVP Form
Fields in bold are required
Adult Formation Small Group
All parents and adults are invited to join us for a small group round table discussion about our Catholic faith in order to share with your family and friends. We will meet in the Choir Room at 5:45 PM on the following Sundays: 10/21/18, 11/4/18, 1/6/19, 1/13/19, 2/10/19, and 3/10/19. Mark your calendars and join us to learn more!
Small Christian Communities
Ongoing adult faith opportunity to pray, share and grow in faith, through the study of the Sunday Scriptures. Small groups meet at agreed upon times in member homes. More...
Weekly Scripture Study
Bible Study is offered for men and women on a weekly basis from September through April. Year-round options include Men's Bible Study, Balanced Women, and Small Christian Communities.
Balanced Women Scripture Study meets every Tuesday from 6:30 PM to 8:00 PM in the St. Joseph Room in the Multi-purpose building. A meal is shared with family then they separate for Scripture time. Nursery is provided.
The things you have learned and received and heard and seen in me, practice these things, and the God of peace will be with you. Philippians 4:9
The King's Men exists to create and develop a thriving community of Catholic men in our parish. One of brothers that learns, grows, experiences, and shares in all areas of life. These men attend Catholic based functions and utilize Catholic based materials and programs to grow in our faith and further our understanding of what God calls men to be.
The King's Men meet every Wednesday from 6:30 PM until 8:00 PM in the St. Joseph Room. They participate in a wide variety of compelling programs and events. Members participate in "That Man Is You" men's development program, Christ Renews His Parish men's retreat, The Men of Immaculata men's conference, and retreats at Manresa. Contact Mark Dugar at markdugar@hotmail.com for more information.
Men's Scripture Study meets Tuesday evenings in the Choir room from 6:00 PM – 8:00 PM. Many of us know the Scripture readings from Mass, but do you know how they apply to your everyday life? Come share time with Scripture from the Sunday readings and fellowship with other men of the parish.
2018-2019 Bible Studies
Bible Studies begin the week of September 10. Registration is required for each. Click here to download registration forms. The Bible Studies available are:
Timeline Study #1 begins Tuesday, September 11 from 4-6 pm in the Blessed Seelos Room with Deanna Burns.
Timeline Study #2 begins Wednesday, September 12 from 6:30-8:30 pm in the SAS Room 213 with Deacon George Hooper.
Matthew Study begins Wednesday September 12 from 6-8 pm in SAS Library with Lindsey Campbell.
Acts Study begins Wednesday, September 12 from 11-1 in St. Francis C with Joselyn Yeager
Psalms/Corinthians Studies begins Monday, September 10 from 9-11 am in St. Francis C with John Fabre.
Exodus/Galatians Studies begin Tuesday, September 11 from 9-11 am in St. Gerard Room with Ann LeSage.
Mary/Mass/Prophets Studies begin Wednesday, September 12 from 6-8 pm in the St. Gerard Room with Margie Huguet.
John/Johannine/Ephesians Studies begin Wednesday, September 12 from 11-1 pm in the Choir Room with Peggy Broussard.
Mark/The Bible and the Sacraments Studies begin Tuesday, September 11 from 6:30-8:30 pm in SAS Room 116 with Genet Scarbrough.
The books of Wisdom Study begins Wednesday, September 12, from 9-11 am in the St. Francis Room with Deanna Burns.