Children's Ministries
Children's Liturgy
Children's Liturgy of the Word meets September 9, 2018- April 14, 2019 during the 10:00 AM Mass. This ministry is for Children K – 2nd Grade. Children's Liturgy helps children understand the Sunday Gospel reading. For more information or to volunteer to help, please contact the Faith Formation Office.
Jesus and Me (Preschool JAM)
Preschool J.A.M. (Jesus and Me)
Beginning Sunday, September 16, 2018, all our little three, four and five-year-old parishioners are invited to attend our wonderful J.A.M. Program. We use the "Seeds" program from Pflaum Gospel Weeklies. Each lesson is liturgy based.
The children meet in the St. Joseph Room in the Multi-Purpose Building behind the Family Center during the 10:00 Mass. The children will enjoy Bible stories, craft activities, songs, and finger plays. Parents are encouraged to lend a hand with classes and special events. The registration forms may be found in the back of Church, in the Faith Formation Office.
Kids in Ministry
Kids in Ministry hosts parties and activities for preschool and elementary age children and brings opportunities for evangelization and fellowship to the Central community. Each year we hold a Halloween Party, Christmas Party, and Easter Egg Hunt and invite the whole community out for fun and games. We are always seeking creative, artistic, innovative, and original adult volunteers who would like to share their gifts with our parish through this ministry. Volunteers can help with coordinating, decorating, and executing these yearly events! Contact: Kaitlyn Johnson 225-261-4644 kaitlyn@alphonsus.org.
Mark your calendars to attend:
Christmas Party- Breakfast with Santa on Saturday, Dec. 8, 2018 from 9:30-11:30 AM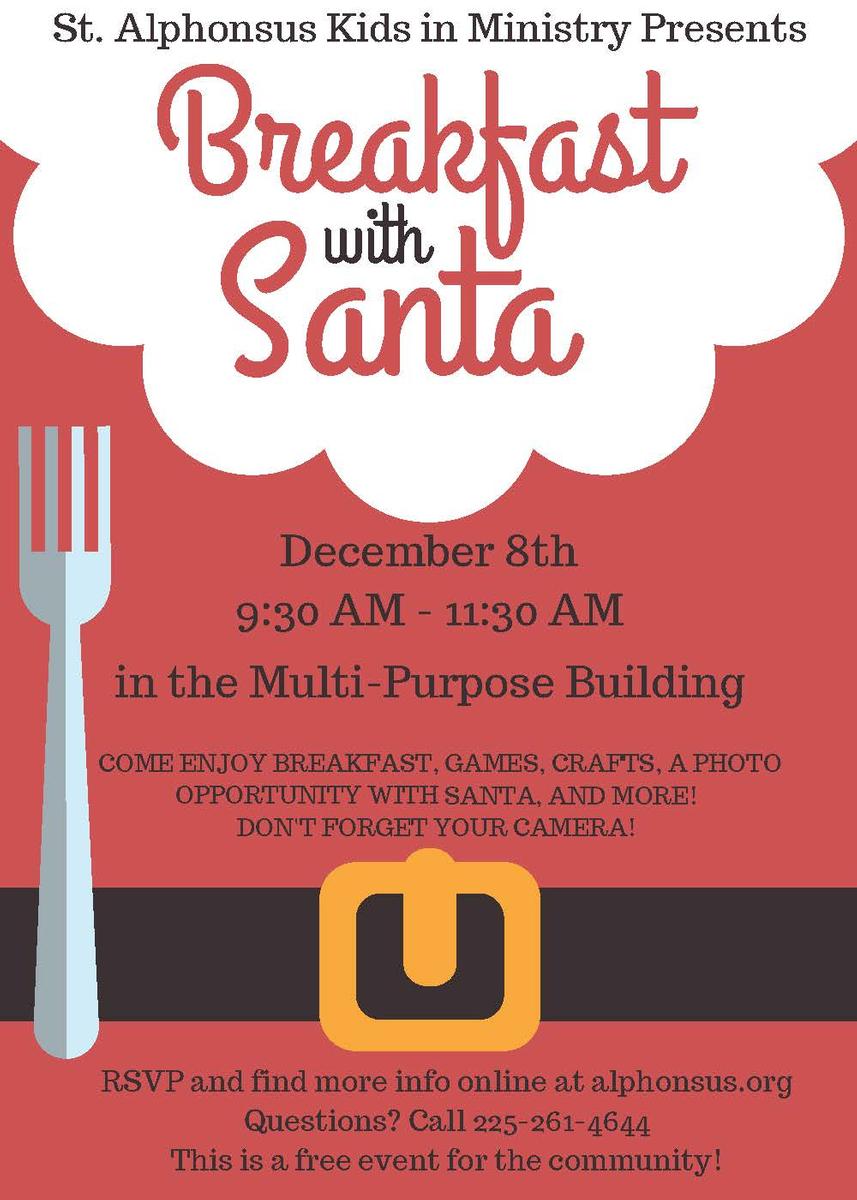 Spring Egg Hunt- Sunday, April 1, 2019
If you would like to help plan these events contact the Faith Formation Office at 261-4644.
Vacation Bible School
Vacation Bible School is a FREE week-long program for children ages four years old through the sixth grade. Children are placed in small groups to enjoy bible stories, crafts, music, snacks, and much more! This year VBS was held June 11-15, 2018 from 9 AM to 12 PM.
Check this page next spring for updates on Summer 2019 VBS!
For more information, contact: Kaitlyn Johnson at 225-261-4644 or kaitlyn@alphonsus.org.