As we enter into the season of Lent, let us turn our focus to prayer, fasting, and almsgiving. During this special season, we have many opportunities to grow in our prayer life and deepen our relationship with Christ Jesus.
Below you will find online resources to use this Lenten Season:
Reflection of Fasting
The USCCB offers this reflection of Lenten Fasting.
FORMED
FORMED has many resources, reflections, short videos, and movies that you and your family can utilize this Lenten season. It's free to use, it just requires an email address.
Busted Halo
Busted Halo offers daily reflections to use on your Lenten journey. Also, there are short video clips explaining the meaning of the season and Ash Wednesday.
Loyola Press
Loyola Press offers several resources for Lent, from explaining Ash Wednesday, the Lenten Season, to daily reflections, book ideas, activities, virtual Stations of the Cross, and much more!
Dynamic Catholic
Matthew Kelly and Dynamic Catholic offer daily reflections delivered right to your inbox in this program called "Best Lent Ever"
Walk to Jerusalem
Was one of your 2021 New Year's resolutions to be more physically active, renew your spiritual connection with God, or participate in more programs at church to build connections with other parishioners? Well, we have the perfect opportunity to check off all of these resolutions as we prepare for the Easter Resurrection during the 40 days of Lent.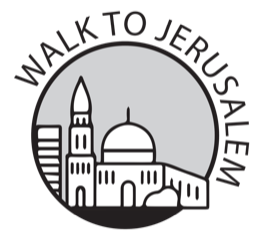 As a St. Alphonsus Church community, we will be on a walk to Jerusalem this Lenten season. Parishioners are invited to participate in the WALK TO JERUSALEM program, which was developed by St. John Providence Health System and designed to increase the physical, spiritual, and emotional health of participants. The goal is to walk enough miles through the Lenten season to reach Jerusalem by Easter. Our path from St. Alphonsus to Jerusalem is a total of 6,885 miles.
Each week participants will be able to submit their mileage online:
Please use the following information to calculate your family's miles each week.
Walk to Jerusalem Weekly Mileage:
Weekly Mileage: _______ miles
1 mile = 1 mile of walking or running
1 mile = 20 minutes of fitness or cardio activity such as swimming or biking
As you begin each week, you are invited to focus on the weekly scripture, meditation/reflection, and health message, which will be provided in the bulletin, on the church website, and on the church Facebook page. We invite you to read the scripture passage before starting your physical activity for the week, and as you complete your mileage throughout the week, meditate on the reflection. The health message will give you nutrition and wellness advice which will relate back to the scripture reading and reflection for the week.
If your fitness calling does not include walking or running, no need to worry. Any fitness or cardio activity (such as swimming or biking, to name a few) lasting 20 minutes will count as 1 mile on this journey to Jerusalem.
Weekly Scriptures/Meditations: Fifth Sunday of Lent
Scripture
: "Whoever loves his life loses it, and whoever hates his life in this world will preserve it for eternal life. Whoever serves me must follow me, and where I am, there also will my servant be."
John 12:20-33
Reflection: Lord, I know that I am called to be in the world, but not of the world. For the world is unsteady, and its values ever changing. May I remember that you are always with me, my one constant, right by my side, guiding me to live for you, not for the world.
Health message: Prayer is important for all aspects of your life, especially in times of change. This includes changes to diet and lifestyle. Put trust in God, believing that He will help guide you through times of frustration or weakness. Pray before meals as a family, asking for His strength in all aspects of life. Pray while you exercise; it can be very therapeutic to say a decade of the Rosary while going for a walk. Challenge—Take time to add prayer to meals and activity each day.
---------------------------------------------------------------------------------------------------------------------------------------------------------
Stops Along the Journey
This year we will be offering a list of cathedrals you can visit virtually while on our journey.
For Week 1 of our journey, check out the following cathedrals on our path to Jerusalem:
Week 2:
Next week see the church bulletin and church website for the last few cathedrals on our journey to Jerusalem. We hope you will join us on this spiritual journey as we become more physically active while also deepening our relationship with God!
*Please note that there is no formal sign-up or registration required. Anyone can join in each week and submit their mileage.